Uniform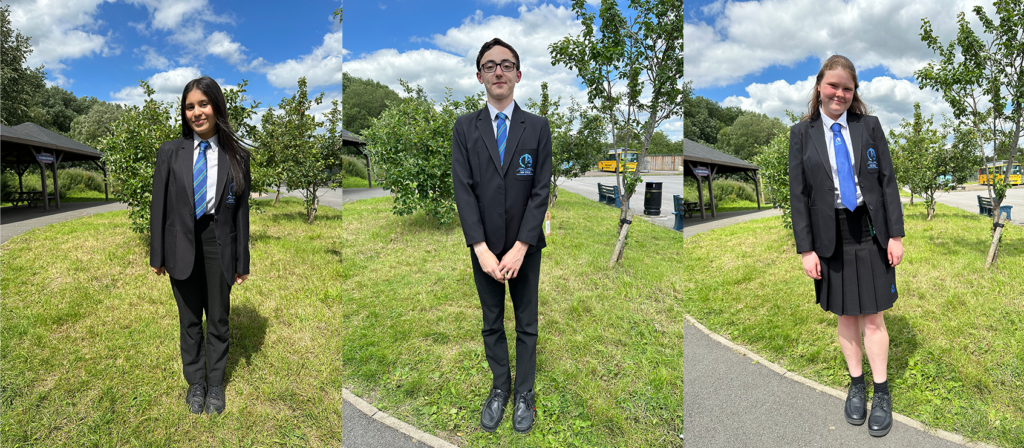 Blazers can also be purchased from supermarkets or department stores.
Uniform
• Black Blazer with Derby High School badge. Alternatively, a badge can be purchased from Macron and sewn onto a black blazer.
• White shirt
• School Tie
(please note that students joining from September 2023 do not need to buy the school tie. The school will present the tie to the new students on their first day).
• Black trousers. Not skintight or cropped. Not denim material.They should not be made of lycra or denim material and should be full length and not above the ankle. Leggings are not allowed. As an alternative to wearing trousers a school skirt can be worn. These school skirts have The Derby High School logo and are available from the uniform suppliers. Girls must wear a DHS skirt if they want to choose the skirt option.
• V-neck Black school pullover
(optional for winter months with no logo or print).

• Practical outdoor coat or anorak – No fashion items including leather, denim or sweatshirts/hooded tops, bandanas or baseball caps. Outdoor clothing should not be worn when inside the school building.
• Shoes – Plain black practical leather (not canvas shoes or pumps, trainers/material sports shoes). Students wear their footwear five days a week. It is important that they are suitable and sturdy. No logos or brightly coloured laces. Fashion shoes e.g., high heels, open toes or slip-on shoes are not suitable. Boots or shoes above the ankle should not be worn if wearing a skirt.
• Socks – Tights/socks – Black tights or plain white or black socks between ankle and knee length. No patterned tights.
• Jewellery/makeup –No jewellery allowed with the exception of a wristwatch
No piercings are allowed. This includes ears, tongue, face etc. No 'clear' piercings are allowed.
• Make –up – No makeup allowed . No nail varnish/gel or false nails allowed. No false eyelashes.
• Hairstyles – Extreme hairstyles or unnatural colours are not permitted, including on hair extensions/weaves. Fully shaven heads or parts of heads/shaved patterns/lines in hair or eyebrows are not permitted. If religious headwear is worn, it should be plain black or navy blue.
Include updated PE Kit image.
Blazers can also be purchased from supermarkets or department stores (badges are available to purchase from Macron).
Add the links to the uniform shops.
Reminder: The FGRS Community Hub based at Bury Football Club will take donations of old school uniform. Second hand uniform can also be found here.

---
PE KIT
Year 7 & 8
Macron navy blue t-shirt with The Derby High School logo
Navy blue football socks or plain white socks
Macron navy blue shorts with The Derby High School logo or Macron navy blue tracksuit bottoms with The Derby High School logo
Macron navy blue tracksuit jacket with The Derby High School logo (optional)
Footwear suitable for indoor and outdoor sporting activities
Long hair should be tied back for health and safety reasons
Year 9 – 11
Navy blue t-shirt with The Derby High School logo
Navy blue football socks or plain white socks
Navy blue shorts with The Derby High School logo or navy-blue tracksuit bottoms with The Derby High School logo
Navy blue tracksuit jacket with The Derby High School logo (optional)
Footwear suitable for indoor and outdoor sporting activities
Long hair should be tied back for health and safety reasons